In this article
Table of contents
Articles in this category
SAP System Landscape and Architecture
SAP System Landscape
The SAP system landscape is defined as an arrangement of SAP servers. Ideally, there is a landscape with three systems in an SAP environment. A System Landscape ideally consists of a Development Server (DEV), Quality Assurance or Test Server (QAS), a Pre-Production Server (PRE-PROD) and a Production Server (PROD). This is also known as OTAP (Development, Test, Acceptance and Production), where Quality equals Test and Acceptance equals Pre-Production. The bottom line is that pieces of software developed in ABAP (Advanced Business Application Programming) are implemented in four steps in a controlled way on the productive SAP system, without developers getting in each other's way or productive systems falling down. In some cases, a 'sandbox' server can also be placed in front of the development server to start up a project and set up an initial configuration of the system.

SAP System Landscape
SAP 3-Layer Architecture
The 3-layer Architecture is how SAP has technically organised its data processing. In contrast to the SAP System Landscape above, this 3-layer architecture can change over time.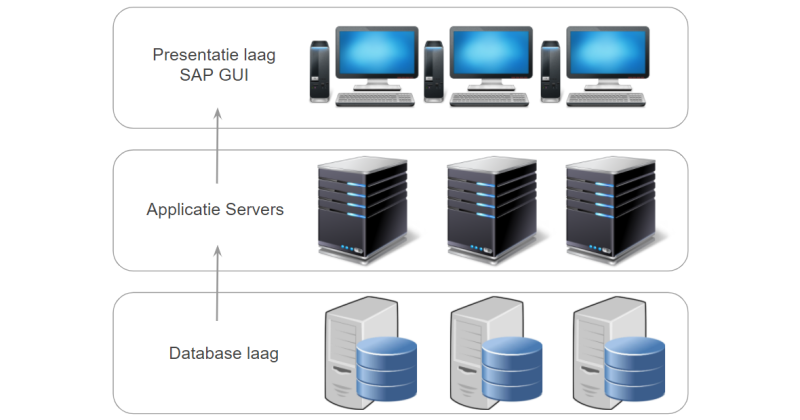 3-Layer Architecture